One of the most common problems when it comes to artificial turf is the maintenance situation. Often low maintenance is misinterpreted as 'no maintenance' which can cause severe problems in the future. In today's blog, we are talking about the importance of artificial turf maintenance for playgrounds, sports surfaces and landscaping areas and what could happen should a surface be neglected.
The Essential Maintenance Package
As with any of our installations, STM recommend a bespoke maintenance schedule which can be booked up to a year in advance and is a cost-effective way to extend the longevity of your surface. Whilst most surface managers opt to extend their maintenance contract, few are convinced that little to no maintenance would suffice. This is far from true.
Depending on the size, shape, base and nearby vegetation would indicate how often your surface should be maintained by an outsourced company. It could be as little as once a year, up to a quarterly schedule. However, a lot of maintenance could be done in house such as:
Regular brushing
Removal of contaminants
Simple inspections of the pitch to check for damage
Moss & Algae on Synthetic Surfaces
Moss & Algae treatments should be outsourced. This is because specialist chemicals are used on the surface and should be handled very carefully. If moss and algae isn't treated, spores will spread and cause severe damage to the surface.
This playground below had been left without any treatment for years and the moss had built up to huge amounts making it unusable for the near future.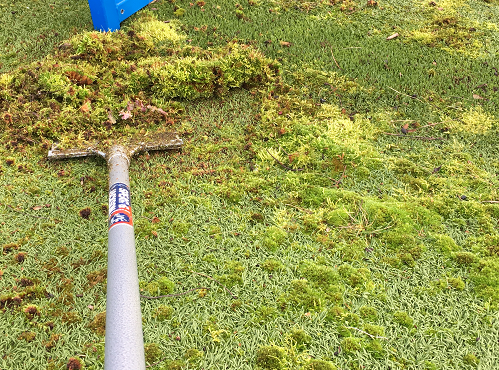 A simple maintenance schedule can extend the lifespan of your surface and mean that no playing time is lost.
To obtain a quote for your synthetic surface, please email louise@stmworld.co.uk