Over the last few months in which Synthetic Turf Maintenance have been operating, we have seen so many artificial turf and astro turf/3G surfaces neglected as people haven't been provided the relevant information in looking after their sports surface.
It seems lots of companies out there install their pitch and then that is the end of the line, however at STM we pride ourselves on our continuing aftercare so that you get the most out of our pitch which will last for up to 20 years!

Some types of sports products, especially 3G rubber crumb become compacted and therefore do not perform the way they should do. There are certain measures you can take to prevent your surface being subject to contaminants:
Litter picking
Reinforcing rules- not allowing certain items to be brought onto the surface such as food and chewing gum in particular!
Owning your own power sweeper and brushing after every 10 hours of play
Outsourcing some areas of your maintenance and having a clear schedule in place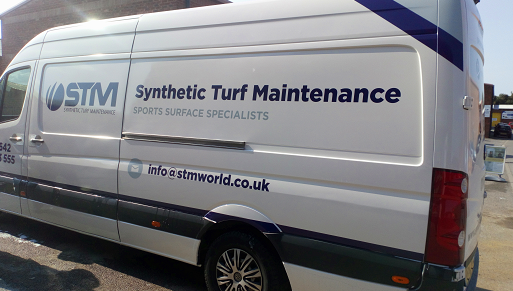 One of our STM Maintenance vans
Artificial Grass Maintenance Packages with STM are a cost-effective solution to care for your surface and provides a safe and long-lasting solution for all types of artificial pitches. We offer a range of bespoke maintenance packages and offer various discounts for bulk bookings.

Enquire today by calling our Maintenance Coordinator Louise on 01642 713 555