Perhaps you had a MUGA installed two years ago, maybe you have artificial grass tennis courts installed that are pushing on a decade. Or maybe you and your current provider isn't quite living up to your expectations. Astro turf maintenance for all schools is an absolute necessity for every synthetic surface otherwise there could be disastrous consequences particularly when it comes to wet and rainy weather coupled with contaminants that have been building up due to little or no cleaning.
But you need not worry, that is what we are here for. Synthetic Turf Maintenance, nationwide artificial turf maintenance specialists and we work together with hundreds of clients all over the country to enhance playing performance and create the safest physical activity space possible. After all, it is all about learning, having fun and getting relevant exercise in safe conditions.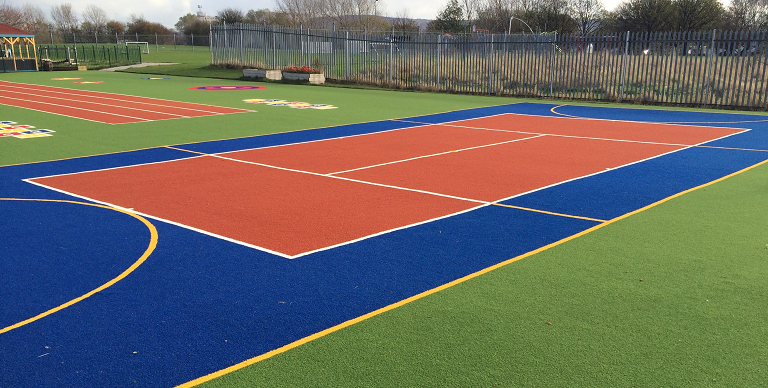 Blue mini MUGA
There are a variety of different packages which you can choose from and this depends on the following:
The size of your surface
How often the surface is used
If there are any repairs needed
What infill is it? E.g. sand or rubber
The turf type
Plans for the future- are you thinking of resurfacing soon?
We can discuss all of this with you and it is so easy! Our Maintenance Coordinator Louise Ramage can talk maintenance with you all day long, she is full of facts and will help you with anything you need. Just give her a call today!
01642 713 555 (option 2)