Artificial grass tennis courts are often a surface that can get a little groggy over time. This is because many are domestic courts and often surrounded by shrubbery, trees and natural grass. A synthetic turf maintenance program is therefore a complete necessity.
The Only Way to Have a High Performing Tennis Court Year After Year
Think about how much you use your tennis court? How much footfall it experiences, what different types of weather we have had over the last few months… well that is your queue to think about a synthetic turf maintenance program. Here at STM, we aim to bring tennis courts back to life with a regular scheduled maintenance package to accommodate to its needs. This includes moss/algae killer, redistribution of sand infill, repairs if needed and removal of any contaminants.
This leads us to a recent maintenance we revisited in Slingsby, near to York. This single tennis court still looks as good as new.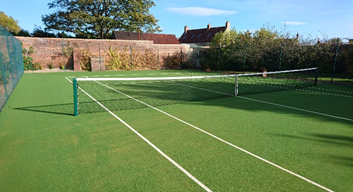 When it is more important for you?
One of the most important things to think about is the surrounding areas of your artificial grass courts. Some surfaces will lead a more regular maintenance package than others, and this could be because of the following:
Dead leaves blow onto the surface and are not removed
Moss and algae develops
Overgrowth from trees and plants
Infill migrates to the edges of the court due to frequent use
Contaminants block drainage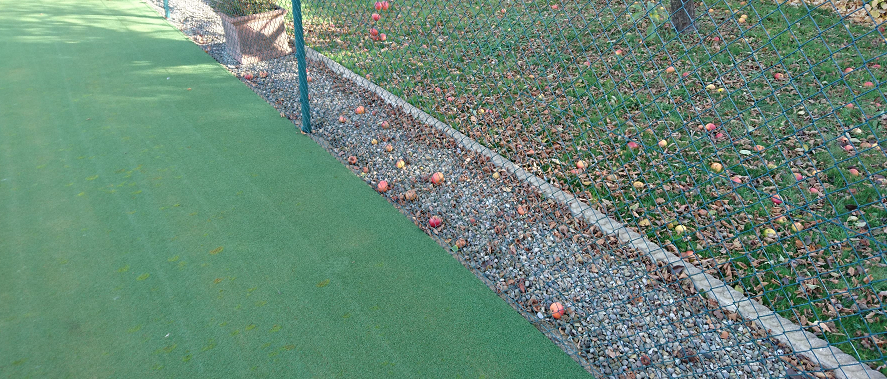 This York domestic court is edged with natural grass and shrubs but still looks fantastic due to the bespoke maintenance package it receives regularly
This can all be prevented.
Contact Synthetic Turf Maintenance today for a free quote.
Call Louise on 01642 713 555 or email louise@stmworld.co.uk