The tennis season is emerging, the sun is starting to make its appearance and people are getting their tennis courts ready for the summer matches. This means the Synthetic Turf Maintenance team have been very busy, particularly with domestic tennis courts. And we were in the West Midlands in the town of Kidderminster this week.
Unfortunately, during the autumn and winter months, tennis courts get forgotten about. When it is cold and wet weather, the last thing some want to do is to play tennis or go and blow the leaves off the court. This leaves the tennis surface not only looking worse for wear, but it can cause irreversible effects. Which is why tennis court maintenance is essential!
Tennis Court Moss & Algae Killing
In the first half of 2018, our partner Synthetic Turf Management installed this court which can also be used for football and basketball. Artificial grass is one of the most popular products for tennis, but more often than not they are enclosed by trees and shrubbery: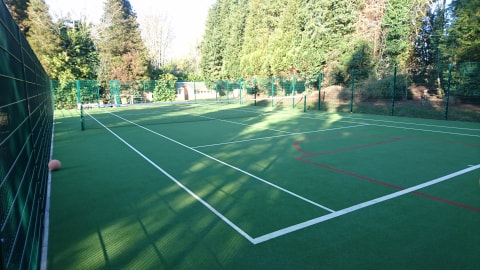 This means the surface is more likely to be subjected to overgrowth, debris blowing onto the surface and moss/algae growing around the edge.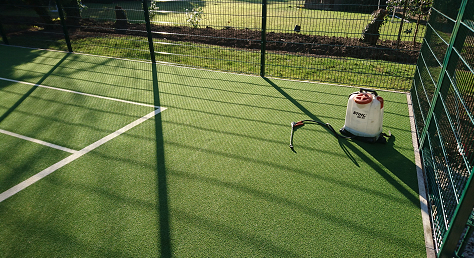 As part of the tennis court maintenance package, a special spray is used to eliminate the moss and algae. Providing these problems are tackled quickly and efficiently, it shouldn't cause problems for the future.
Tennis Court De-Compaction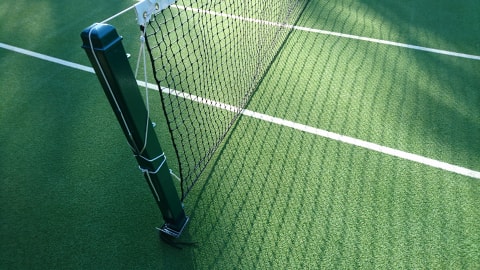 In this project the artificial turf carpet was also de-compacted. Meaning the sand infill is redistributed to protect the pile.
Of course, this isn't all we do when it comes to a tennis court maintenance. The packages are completely bespoke so whether you want a one off deep clean, a series of power brushing jobs or even if you are not sure what your surface needs. Send us some images and we can provide you with the information you need:
info@stmworld.co.uk