When maintaining sports pitches, tennis courts or any other synthetic surface, it is important to use the correct machinery to treat the artificial grass blades the way they should be. Although hardwearing and durable, they need to be looked after properly and that is why artificial grass maintenance equipment should be used on a regular basis.
At STM, we use equipment such as decompaction machines, power sweepers, moss & algae machine treaters and drag brushes. This allows us to carry out the best job possible.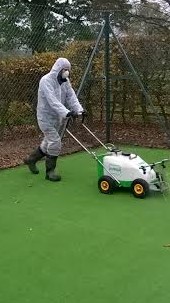 Moss & algae treatment on a tennis court.
All practices are carried out safely and efficiently.
Artificial Grass Brush Machine
We know, brushing artificial grass doesn't quite seem the most professional thing to do, but it actually helps to do the trick when it comes to clogged up surfaces and removing debris that has compacted down.
This power sweeper (above) is a hand-held device which decompacts the infill around the perimeter. Often infill is pushed towards the perimeter after regular use, this process allows the sand infill to be redistribute to the right areas.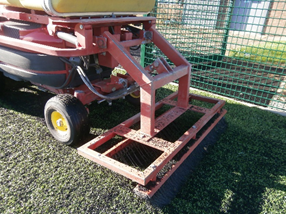 This ride on decompaction machine (above) has a drag brush attached which helps to redistribute rubber crumb infill which is common on 3G football and rugby pitches.
Top Tips for Artificial Grass Machinery
It is not necessary for all clients to purchase their own machinery, it is much more cost-effective to outsource this area of maintenance and that is what STM do.
Safety should always be a number one priority for artificial grass machinery, if you are ever in doubt about how to use it, seek advice straight away.